About the Center
The Center for Infection and Pathobiology (CIP) at Cornell University is the hub for research on the interplay between host and pathogen/toxin. Initially established as the Program in Infection and Pathobiology in 1999, the Center has evolved into a collaborative, multi-departmental program that spans a variety of disciplines, and facilitates broader interactions among the researchers across the university.  The Center supports effective collaborations in research and teaching among faculty members of the colleges of Veterinary Medicine, Agriculture and Life Sciences, Human Ecology, Arts and Sciences, and Engineering.  Programs sponsored by the CIP include a bi-annual overnight retreat, a symposium, seminar series and course, development of training and multi-investigator grants, research and theme workshops and seed grant programs.
Infection & Pathobiology Symposium
Check back for future Symposium dates.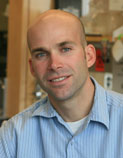 Dr. Brian Rudd's research seeks better ways to strengthen newborn immune system memories.

Dr. Gary Whittaker's discovery opens the gates to developing the first working diagnostics, vaccines, and treatments for FIP.

Dr. David Russell's new paper in Cellular Microbiology is the Editor's Choice for June.
More Information