About the Program
Pathologic changes occurring as a result of infection or exposure to toxic agents are common in both animals and plants. At Cornell University, scientists studying the interplay between host and pathogen/toxin have been brought together in a multidepartmental program entitled Infection and Pathobiology.
The program spans the various disciplines involved and facilitates broader interactions between departments and graduate fields that share common interests in host-pathogen interactions.
Infection & Pathobiology Symposium
Fri. March 6, 2015, ILR Conference Center
Register at: https://cornell.qualtrics.com/SE/?SID=SV_b1rS7pf0UlOeiAR
Submit abstract for student/postdoc presentation:
https://cornell.qualtrics.com/SE/?SID=SV_do0KKC6hVuylqCN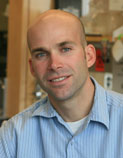 Dr. Brian Rudd's research seeks better ways to strengthen newborn immune system memories.

Dr. Gary Whittaker's discovery opens the gates to developing the first working diagnostics, vaccines, and treatments for FIP.

Dr. David Russell's new paper in Cellular Microbiology is the Editor's Choice for June.
More Information